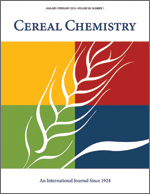 Cereal Chem 46:284 - 292. | VIEW ARTICLE
Alcohol-Soluble Proteins of Grain Sorghum.

L. V. S. Sastry and T. K. Virupaksha. Copyright 1969 by the American Association of Cereal Chemists, Inc.

Kafirin, the alcohol-soluble protein of grain sorghum, is a complex mixture of several protein components as revealed by disc electrophoresis in polyacrylamide gels. Disulfide groups of kafirin have been cleaved by oxidation or reduction and the products have been analyzed by gel electrophoresis and gel filtration. The electrophoretic pattern of reduced-alkylated kafirin, at pH 3.1, is similar to that of the unmodified kafirin. Gel filtration experiments on oxidized and reduced-alkylated kafirin have shown that cleavage of disulfide bonds does not greatly alter the molecular size of this protein. On reoxidation of reduced kafirin, the electrophoretic pattern and presumably the native structure of kafirin is restored. These studies have led to the conclusion that the disulfide bonds of kafirin occur predominantly in the intrachain form, analogous to the disulfide bonds of wheat gliadin.