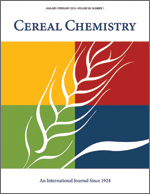 Cereal Chem 46:425 - 434. | VIEW ARTICLE
Effect of Wet Heat-Processing on the Nutritive Value of Whole-Wheat Protein.

C. K. Milner and K. J. Carpenter. Copyright 1969 by the American Association of Cereal Chemists, Inc.

Rats grew faster and gave higher PER values when they received wheat that had been wetted and then mildly cooked than when they received raw wheat in protein quality tests. This appears to have been an artifact due to an improved palatability. NPU was unaffected, and there was no growth response with chicks. Processing of wheat to bulgur under more severe conditions resulted in a 10% fall in NPU, with some destruction of cystine and binding of lysine, as judged both by reaction with fluorodinitrobenzene and growth assay with chicks.