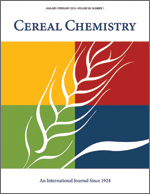 Cereal Chem 46:478 - 485. | VIEW ARTICLE
Breakage of Rice During Milling, and Effect of Parboiling.

K. R. Bhattacharya. Copyright 1969 by the American Association of Cereal Chemists, Inc.

Several factors are recognized as contributing qualitatively to breakage of rice during milling. The relationship of kernel defects to breakage was investigated in laboratory studies. Most of the breakage in a lot occurred at the earliest stage and increased little with continued milling; it was related quantitatively to the amount of cracked and immature kernels, as revealed in transmitted light. Whole grains showed practically no breakage after milling. These facts indicated that it was primarily the defective grains which ultimately failed in milling.The well-known improvement in milling quality of rice after parboiling was also related to the above phenomenon. Cracks (whether inherent or freshly induced), immaturity, and chalkiness in the kernels were completely eliminated after the process. Consequently, the milling quality of parboiled paddy was always determined de novo, independently of the previous history or condition of the lot, and was always excellent, given proper drying. Parboiling was, therefore, an excellent tool for salvaging any paddy that had been improperly harvested or dried or inadvertently damaged, or paddy that contained a large proportion of immature kernels. Milling quality of damaged parboiled paddy also could be restored by reparboiling.