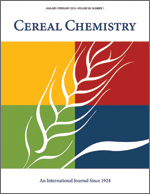 Cereal Chem 46:486 - 489. | VIEW ARTICLE
A Laboratory Method for Milling Small Samples of Sorghum Grain.

L. W. Rooney and R. D. Sullins. Copyright 1969 by the American Association of Cereal Chemists, Inc.

A method for milling 100- to 200-g. samples of sorghum by a combination of abrasive milling, screening, and air flotation is described. The yield and standard deviation (n = 13) for the milling fractions from a yellow endosperm sorghum-grain sample were: coarse-grits, 51.0 +/- 0.8%; fine-grits, 19.0 +/- 0.8%; germ- rich grits, 4.7 +/- 0.8%; germ, 1.5 +/- 0.3%; bran, 3.3 +/- 0.2%; and flour, 18.1 +/- 0.6%. Ether extract of the coarse and fine grits was less than 0.5%, ash was less than 0.3%, and protein was decreased by 1 to 2% compared to the protein content of the grain. The method gave good reproducibility for the milling fractions from two other sorghum varieties. It may be useful for studying the milling properties of different types of sorghums when only small quantities of grain are available.