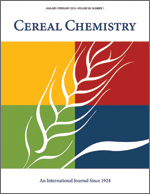 Cereal Chem 46:490 - 494. | VIEW ARTICLE
Pigment Characterization in Grain Sorghum. I. Red Varieties.

W. K. Nip and E. E. Burns. Copyright 1969 by the American Association of Cereal Chemists, Inc.

The pigments in three red varieties of sorghum grain, B 378, Tx 415, and RS 671, were found mainly in the stylar area, the epidermis, cross cell and tube-cell layers of the pericarp. The mesocarp in general was not colored. Upon chromatographic purification of the extracts from each variety, three major pigments, two yellow and one orange, were isolated. Color reactions, Rf values, and spectral measurements indicated the two yellow pigments to be similar to apigeninidin-5-glucoside and kaempferol-3-rutinoside-7-glucuronide, respectively. An unidentified orange pigment having anthocyanin properties was also isolated.