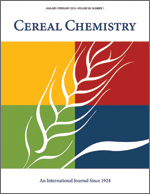 Cereal Chem 46:537 - 544. | VIEW ARTICLE
The Proteolytic Enzymes in Wheat Flour.

C. C. Wang and D. R. Grant. Copyright 1969 by the American Association of Cereal Chemists, Inc.

A single extraction of flour with acetate buffer will solubilize less than one-half the proteolytic activity found in a flour suspension. Unextracted activity can be accounted for in the residue. Repeated extractions will solubilize most if not all of the activity. The extracted enzyme was purified fourfold by precipitating inactive protein with 0.1M NaCl. Kinetic studies confirmed that activity did not increase linearly with enzyme concentration, but the deviation from linearity became smaller as the purity of the enzyme increased. Thermal denaturation studies revealed that a part of the extractable activity is unstable at 50 C., but another part is unaffected. Sephadex gel filtration of the extract showed two enzymatically active fractions, one associated with the glutenin. On the same column the most purified preparation showed no glutenin and only one broad activity peak. Results may be interpreted on the basis of more than one enzyme or, alternatively, one enzyme which forms one or more complexes with other flour proteins.