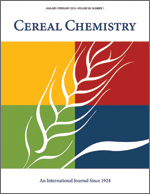 Cereal Chem 46:606 - 613. | VIEW ARTICLE
Functional (Breadmaking) and Biochemical Properties of Wheat Flour Components. V. Role of Total Extractable Lipids.

R. C. Hoseney, K. F. Finney, Y. Pomeranz, and M. D. Shogren. Copyright 1969 by the American Association of Cereal Chemists, Inc.

Water-saturated butanol, used to extract bound lipids, formed a complex with starch and inhibited gas production. A reconstituted flour almost completely free of lipid (0.08%) was prepared by first extracting free lipids from the flour with petroleum ether, then washing out the gluten, solubilizing the gluten in 0.005N lactic acid, and centrifuging at 100,000 x g for 5 hr.; the lyophilized centrifugate was then extracted with water-saturated butanol. The reconstituted flour, after premixing to restore certain rheological properties, was used to study the comparative roles of free polar, free nonpolar, and bound polar lipids. Small amounts of free polar or bound polar lipids were detrimental to loaf volume, unless accompanied by nonpolar lipids or bound lipids in their native state. High amounts of bound polar or free polar lipids restored loaf volume. However, larger quantities of bound polar than free polar were required. Bound polar lipids in their native state performed differently in baking than when they were extracted and reconstituted.