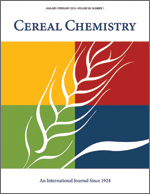 Cereal Chem 46:626 - 634. | VIEW ARTICLE
Inactivation of Peroxidase as a Function of Corn Processing.

H. W. Gardner, G. E. Inglett, and R. A. Anderson. Copyright 1969 by the American Association of Cereal Chemists, Inc.

Measurement of peroxidase activity is used as a method by which to quantitate enzyme destruction in processed corn. Dry-mill processing usually results in a small amount of enzyme destruction. Peroxidase activities in the dry-milled fractions vary, largely because of the anatomical origin of the fraction. The germ fraction is much more active than the fractions derived from endosperm or pericarp. Roll- and extrusion- cooking of grits often result in total inactivation of peroxidase activity. The degree of inactivation depends upon the amount of heat and moisture used in the process, and it can be correlated with either water- absorption properties of the product or consistency of a mixture of the product with water.