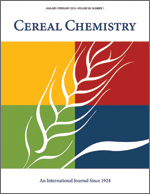 Cereal Chem 46:642 - 646. | VIEW ARTICLE
Immunochemical Analysis on Soluble Proteins of Wheat.

S. E. Piazzi and P. Cantagalli. Copyright 1969 by the American Association of Cereal Chemists, Inc.

A preparation of specific rabbit bread-wheat antiserum for immunological differentiation of bread wheat from macaroni wheat is reported. An extract of bread wheat showed on gel-filtration chromatography two fractions apparently not present in macaroni wheat. From an antiserum prepared by injection of these fractions, antibodies were absorbed by reaction with durum wheat proteins. The remaining antibody globulin was purified and concentrated by precipitation with 1.8M ammonium sulfate at pH 7.2, dialyzed against water and a saline solution, and sterilized by filtration. The antibody solution showed positive immunodiffusion precipitation tests with 16 bread-wheat extracts and negative tests with 16 durum-wheat extracts. Bread wheat was easily detected as 10% of a mixture with durum wheat.