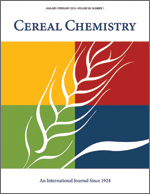 Cereal Chem 47:19 - 26. | VIEW ARTICLE
Natural Maturing of Wheat Flour. I. Changes in Some Chemical Components and in Farinograph and Extensigraph Properties.

T. Yoneyama, I. Suzuki, and M. Murohashi. Copyright 1970 by the American Association of Cereal Chemists, Inc.

Freshly milled or green flour was stored to 90 days at 30 C. in air and in nitrogen. Concomitant changes in pH, microoganism population, protease activity, and SH and nitrogen contents of metaphosphoric acid solution solubles, ascorbic and dehydroascorbic acid contents, lipid peroxide, titratable acidity, and some rheological properties were measured. The significant change observed was the decrease in the SH content, and this seems to be directly responsible for the changes in rheological properties of the dough and presumably in the breadmaking quality. Increases in mold counts and acidity were observed, but these were quite small and probably not involved in the natural maturing reaction.