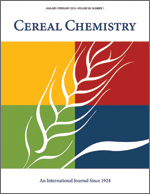 Cereal Chem 47:167 - 172. | VIEW ARTICLE
Soybean Trypsin Inhibitor: A Reference Protein for Gel Electrophoretic Studies of Soybean Proteins.

A. C. Eldridge, J. E. Kalbrener, and W. J. Wolf. Copyright 1970 by the American Association of Cereal Chemists, Inc.

Earlier studies showed commercial samples of crystalline soybean trypsin inhibitor (SBTI) to be heterogeneous. An automated diethylaminoethyl (DEAE) cellulose chromatographic system was used to purify several commercial samples of SBTI. The SBTI's purified by column chromatography were analyzed by seven different gel electrophoretic procedures. The protein migrated as a characteristic, fast-moving band in most gel systems studied. SBTI can be used as a reference protein to calculate the relative mobilities of other protein bands in electrophoretic studies of soybean proteins.