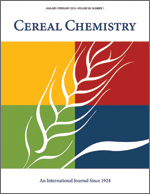 Cereal Chem 47:173 - 180. | VIEW ARTICLE
Effect of Gluten on the Cooking Quality of Spaghetti.

R. R. Matsuo and G. N. Irvine. Copyright 1970 by the American Association of Cereal Chemists, Inc.

The effect of different types of gluten on spaghetti cooking quality was studied. Gluten characteristics were measured using the farinograph, alveograph, and the Kosmina gluten stretching test. Cooking quality was assessed by measuring spaghetti tenderness with an apparatus designed in our laboratory. Gluten of medium strength as assessed by the physical tests appears to produce spaghetti of optimum cooking quality. Reconstitution studies indicate that gluten quality is the major factor determining cooking quality.