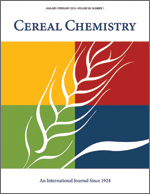 Cereal Chem 47:189 - 193. | VIEW ARTICLE
The Acetic Acid Content of Sour French Bread and Dough as Determined by Gas Chromatography.

I. R. Hunter, M. K. Walden, and L. Kline. Copyright 1970 by the American Association of Cereal Chemists, Inc.

The total acidity of sour French bread, dough, and starter was determined by extraction of these materials with acetone followed by titration of the extracts with standard alkali. The results were compared with extracts of conventional bread and dough. There was ten times more acid in the sour bread than in the conventional bread. Percentage of acetic acid present in the acid fractions was determined by gas chromatography. Approximately half of the total acidity of sour French bread and three-fourths of the total acidity of conventional bread was acetic acid.