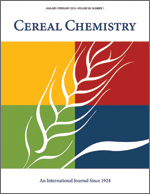 Cereal Chem 47:296 - 302. | VIEW ARTICLE
Some Effects of Antioxidants in Dough Systems.

L. K. Dahle and P. R. Murthy. Copyright 1970 by the American Association of Cereal Chemists, Inc.

A number of antioxidants, including ascorbic acid, were tested in a continuous-doughmaking system. With varying magnitude, all effected a lower mixing requirement. Hydroquinone and p-benzoquinone caused a weakening of the farinograph curve. That this could be caused by SH-blocking action was suggested by the reactivity of p-benzoquinone to glutathione. Neither hydroquinone nor ascorbic acid weakened a synthetic dough system of starch, gliadin, and glutenin. No evidence was obtained for SS cleavage as a mechanism of the action of antioxidants in dough systems.