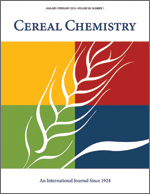 Cereal Chem 47:303 - 308. | VIEW ARTICLE
Chemical Dehulling of Dent Corn.

C. W. Blessin, W. L. Deatherage, and G. E. Inglett. Copyright 1970 by the American Association of Cereal Chemists, Inc.

A process has been developed that rapidly dissolves the pericarp (hull or bran) of dent corn with alkali and leaves the endosperm, aleurone layer, and germ intact. Various times (2, 4, and 6 min.), temperatures (140, 160, and 180 F.), and concentrations (10, 15, and 20% w./w.) were investigated with aqueous solutions of sodium hydroxide to determine its effectivenss as a dehulling agent. Three dent corns (Bear C-14, Bear X- 800, and a commercial sample of U.S. No. 2 yellow) were used in this study. In general, at 15% solution of sodium hydroxide at 160 F. essentially dissolved the pericarp in 3 to 4 min. when agitation was adequate. Residual alkali was neutralized with acetic acid. Average yield of the dehulled corn from this treatment was 93%. Microscopic observation showed that the major portion of the aleurone layer was not removed under these conditions. Alkali dehulling had little measurable effect on ash, ether extract, or protein content. Fiber and total niacin levels were reduced to 50% of their original value.