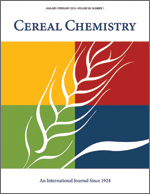 Cereal Chem 47:317 - 323. | VIEW ARTICLE
Wheat Hydrocarbons.

V. L. Youngs and K. A. Gilles. Copyright 1970 by the American Association of Cereal Chemists, Inc.

Nonpolar lipids were extracted from HRS wheat flour and bran, and from durum semolina and bran, by shaking with petroleum ether. The lipids were streaked on thick silica-gel plates and developed in carbon tetrachloride, and the hydrocarbon bands were removed. The average total hydrocarbon content of the dry flour and semolina was 0.0036%. All n-hydrocarbons between C-8 and C-33 were separated and identified by gas-liquid chromatography, and the relative amounts were determined in flour, semolina, and bran. C-13 to C-15, C-32, and C-33 were present in very small amounts in all samples analyzed. Flour and semolina contained substantial amounts of C-9 to C-11 and C-17; the bran of both wheat varieties contained more of the long-chain hydrocarbons, particularly C-25, C-27, and C-29. In flour and semolina, 57 and 58%, respectively, of the n-hydrocarbons were odd-numbered; in HRS bran 67%, and in durum bran 64% were odd-numbered. The n-hydrocarbons comprised 65% of the total hydrocarbons analyzed. Other homologous series prese nt were identified as the combined 2- and 3-methyl hydrocarbons, and 1-cyclohexyl derivatives, which comprised 20 and 12%, respectively, of the total hydrocarbons. Squalene, an unsaturated hydrocarbon, accounted for 3% of the total.