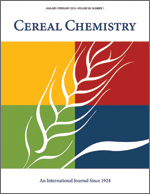 Cereal Chem 47:324 - 330. | VIEW ARTICLE
Cream Puffs Prepared with Frozen, Foam-Spray-Dried, Freeze-Dried, and Spray-Dried Eggs.

K. Funk, M. E. Zabik, G. Charlebois, and D. M. Downs. Copyright 1970 by the American Association of Cereal Chemists, Inc.

Cream puffs were prepared with frozen, foam-spray-dried, freeze-dried, and spray-dried eggs containing corn syrup solids to compare emulsifying and extensible properties as well as palatability of processed eggs. Ranked in order of increasing viscosity were batters prepared with foam-spray-dried, frozen, spray-dried, and freeze-dried eggs, the various viscosities suggesting differences in emulsifying properties of the eggs. Cream puffs prepared with freeze-dried eggs contained more (P less than 0.05) moisture than those prepared with other types of eggs. Percentages of moisture lost during baking, and linear and volume measurements, did not differ significantly among egg processes. Shear press measurements of tenderness expressed as maximum force and area-under-the-curve indicated that cream puffs prepared with foam- spray-dried eggs were tougher (P less than 0.05 and P less than 0.01, respectively) than those prepared with other types of eggs. All cream puffs scored fair to good in shape, exterior appearance, shell thickness, interior appearance, interior moistness, and flavor; in cavity size and tenderness they scored poor to fair. Those prepared with spray-dried eggs were toughest (P less than 0.05); those prepared with foam-spray- dried eggs had the largest cavities (P less than 0.05).