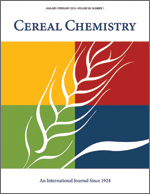 Cereal Chem 47:345 - 350. | VIEW ARTICLE
A Rapid Nuclear Magnetic Resonance Method for Determining Hydroxypropyl Group in Modified Starch.

H. Stahl and R. P. McNaught. Copyright 1970 by the American Association of Cereal Chemists, Inc.

Classic chemical methods for determining the hydroxypropyl content of modified starches are tedious, time- consuming, and unsuitable as control procedures for the analysis of large numbers of samples. In this paper, nuclear magnetic resonance (NMR) spectroscopy was evaluated as a rapid means of measuring the hydroxypropyl content. The terminal methyl of the hydroxypropyl group appears as a distinct doublet in the NMR spectrum and was utilized as a basis of quantitation. The method was found suitable for the analysis of commercial modified starches and useful for detecting a lower limit of 0.5% hydroxypropyl content.