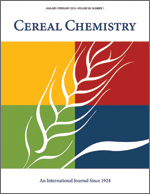 Cereal Chem 47:373 - 380. | VIEW ARTICLE
Wheat Germ in Breadmaking. I. Composition of Germ Lipids and Germ Protein Fractions.

Y. Pomeranz, M. J. Carvajal, R. C. Hoseney, and A. B. Ward. Copyright 1970 by the American Association of Cereal Chemists, Inc.

Untreated and defatted granular wheat germ was pin-milled and air-classified. The protein shift was much higher in the defatted than in the untreated germ. Sodium chloride solutions extracted up to 86.3% of germ proteins. The extract contained, on dry matter basis, about 83% protein (N x 5.45). Calcium chloride solutions extracted less proteins, and dilute acetic acid was least effective. Proteins in germ, NaCl extracts, and in low-protein and high-protein air-classified fractions were characterized by starch-gel electrophoresis and amino acid composition. Germ proteins contained a whole spectrum of fast-moving salt-soluble proteins, and gluten proteins werevirtually absent. Proteins in defatted germ and in a salt extract of defatted germ were rich in most of the essential amino acids. The high-protein fraction from air classification contained less than the low-protein fraction of lysine, serine, proline, sulfur-containing amino acids, alanine, leucine, and tyrosine. Free and bound germ lipids were characterized by thin-layer chromatography. Free lipids contained practically no polar components; bound germ lipids contained small amounts.