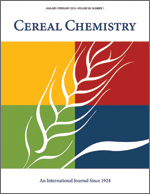 Cereal Chem 47:393 - 403. | VIEW ARTICLE
Chromatographic Comparisons of Peptic Digests of Individual Gliadin Proteins.

J. A. Bietz, F. R Huebner, and J. A. Rothfus. Copyright 1970 by the American Association of Cereal Chemists, Inc.

Peptide maps of peptic digests of whole Ponca gliadin and its alpha-, beta-, gamma1-, and gamma3- components are similar. Of these proteins, gamma3-gliadin is most different. Peptide maps from alpha-, beta-, and gamma-gliadins from Red Chief and Comanche varieties also show many similarities both within each variety and between corresponding components. The two gamma-gliadin chromatograms are nearly identical. Definite differences between chromatograms of all components, however, indicate that each protein is unique. Peptide mapping by column chromatography is more sensitive than starch-gel electrophoresis of whole proteins in detecting differences in protein structure. The results support the hypotheses that some amino acid sequences in different gliadin proteins have variable structures but others are the same or very similar. Peptide maps of digests of the reduced and S-aminoethylated proteins suggest that some cysteine residues occur in invariant segments.