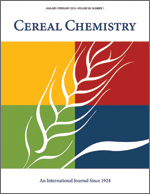 Cereal Chem 47:411 - 421. | VIEW ARTICLE
A Rapid Colorimetric Procedure for Estimating the Amylose Content of Starches and Flours.

P. C. Williams, F. D. Kuzina, and I. Hlynka. Copyright 1970 by the American Association of Cereal Chemists, Inc.

A rapid colorimetric test is described for estimating the amylose content of starches and flours. The principle of the test lies in the blue color developed by the addition of an iodine reagent to a solution containing the amylose under standardized conditions. The precision, rapidity, and simplicity of the procedure are considered to be superior to those of existing methods. Results are computed by means of a regression equation. An amperometric procedure was used as a standard method for amylose determination. The test has been applied to series of starches varying very widely in amylose content and also to several straight-grade and patent flours. Possible applications of the procedure to some of the problems concerned with the baking and cooking quality of flour and semolina products are discussed.