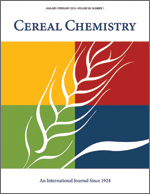 Cereal Chem 47:422 - 428. | VIEW ARTICLE
Effect of Common Fumigants on the Baking Qualities of Wheat.

M. Calderon, S. Navarro, and Z. Lindner. Copyright 1970 by the American Association of Cereal Chemists, Inc.

The effect of fumigation on the baking quality of HRW wheat of 12.5 to 13.5% moisture content was investigated. The following fumigants were used: Calandrex (a mixture of trichloroethylene:carbon tetrachloride:carbon bisulfide, 64:10:26, w./w./w.), trichloroethylene, carbon tetrachloride, carbon bisulfide, and methyl bromide. Investigations with Calandrex, as well as the mixture carbon tetrachloride:methyl bromide (80:20 w./w.), were also carried out in repeated fumigations on HRS wheat of 12.0 to 13.0% moisture content. Except for carbon bisulfide and to a minor degree Calandrex, no deleterious effects were caused by the treatments. Successive fumigations of wheat with Calandrex resulted in a marked decrease of loaf volume, the most pronounced effect being shown after the third fumigation. No effect was observed when wheat was repeatedly fumigated with the carbon tetrachloride:methyl bromide mixture.