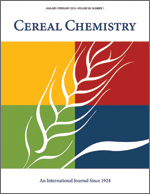 Cereal Chem 47:472 - 482. | VIEW ARTICLE
Protein Fractionation of Sorghum Grain.

L. V. Skoch, C. W. Deyoe, F. K. Shoup, J. Bathurst, and D. Liang. Copyright 1970 by the American Association of Cereal Chemists, Inc.

Protein solubility of five samples of sorghum grain of both low- and high-protein type were compared to that of high-lysine (opaque-2) corn. A modified Mendel-Osborne technique was used. Results indicate that twice the amount of protein is extracted from opaque-2 corn when compared to that of sorghum grain. The glutelin fraction represented the major soluble-protein fraction of sorghum grain and opaque-2 corn. Amino acids were determined by ion-exchange chromatography. Comparisons of amino acid distributions were made between fractionated proteins, with the assumption that those proteins extracted were characteristic of their class. The percentages of proline and leucine increased and decreased respectively in the albumin protein as the protein content of whole sorghum grain increased. Concentrations of lysine and glycine in the nonsolubilized protein of sorghum grain decreased as protein content of the grain increased. Concentrations of lysine, arginine, and glycine in both the albumin and globulin fractions of sorghum grain were nearly double that in protein of whole sorghum grain. The glutelin fraction had an amino acid composition midway between that of the globulin and prolamine. Concentrations of lysine, histidine, arginine, threonine, serine, and glycine were higher in glutelin than in the prolamine fraction.