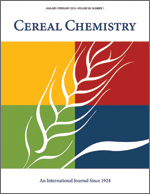 Cereal Chem 48:1 - 8. | VIEW ARTICLE
Composition and Structure of Glucofructans from Durum Wheat Flour.

D. G. Medcalf and P. W. Cheung. Copyright 1971 by the American Association of Cereal Chemists, Inc.

Flour from Triticum durum (variety Leeds) was extracted with aqueous ethanol and the glucofructan fraction precipitated as the barium hydroxide complex. After acetylation, the glucofructan acetates were fractionally precipitated from acetone-ethanol with petroleum ether. Nine acetate fractions were obtained varying in specific optical rotation in chloroform from -3 to +48 degrees. The major fraction (20% of the total acetate yield) was structurally characterized by partial acid and enzymatic hydrolysis, periodate oxidation, and methylation. These data indicated that this fraction was composed of D-fructofuranose units linked beta-2,6 with a sucrose end unit. Single unit, beta-1,2-linked D-fructofuranosyl branches were also found. The remaining acetate fractions were methylated and the methylated sugars identified after hydrolysis by GLC. Analysis of these data indicated that the nine fractions obtained in this work were composed of two structurally different series of glucofructan molecules. In one (62% of the total including the major fraction), the primary D-fructose linkage was beta-2,6. In the other fractions (38% of the total), the primary linkage between D-fructose units was beta-1,2.