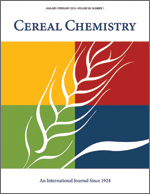 Cereal Chem 48:9 - 13. | VIEW ARTICLE
Effect of Fiber on Availability of Protein from Wheat Shorts.

G. S. Ranhotra, F. N. Hepburn, and W. B. Bradley. Copyright 1971 by the American Association of Cereal Chemists, Inc.

The effect of the level and the particle size of fiber on the availability of protein from shorts was studied. On a 10% protein diet, the rate of growth and PER tended to be somewhat higher in rats fed ground shorts (70 mesh; fiber about 10%) and was much higher in those fed wheat protein concentrate (70 mesh; fiber about 3%) as compared to coarse shorts (15 mesh; fiber about 10%). Also, despite somewhat low lysine intake (0.83 vs. 0.88 g.), more nitrogen was retained by rats fed wheat protein concentrate than coarse shorts (116 vs. 100%). Between the coarse and ground shorts, rats fed ground shorts also retained more nitrogen (109 vs. 100%). Protein digestibility of the two shorts did not differ but it was significantly higher for wheat protein concentrate (83 vs. 71%). The pattern of plasma-free amino acids tended to reflect the quality of ingested protein more closely for wheat protein concentrate and ground shorts than for coarse shorts.