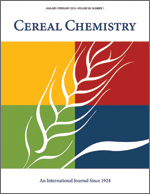 Cereal Chem 48:14 - 22. | VIEW ARTICLE
Adsorption Kinetics of Water Vapor by Yellow Corn. I. Analysis of Kinetic Data for Sound Corn.

S.-W. Park, D. S. Chung, and C. A. Watson. Copyright 1971 by the American Association of Cereal Chemists, Inc.

Adsorption rates of water vapor by yellow corn samples at three initial moisture contents were examined under various environmental conditions by a continuous measurement system. In order of importance the factors influencing the adsorption rate were relative humidity, initial moisture content, and temperature. The kinetic data were well described by the Elovich adsorption kinetic equation. A semiempirical equation, based on the Elovich equation, was developed, and agreement between experimental data and data generated by this equation was remarkably close.