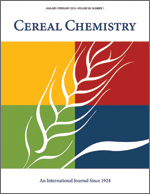 Cereal Chem 48:27 - 33. | VIEW ARTICLE
A Nutritional Evaluation of Corn Wet-Milling By-Products with Growing Chicks and Turkey Poults, Adult Roosters, and Turkeys, Rats, and Swine.

H. S. Bayley, J. D. Summers, and S. J. Slinger. Copyright 1971 by the American Association of Cereal Chemists, Inc.

The absorbabilities of the energy-yielding components of three corn wet-milling by-products were measured with young growing chicks and turkeys, adult roosters and turkey toms, swine, and laboratory rats. The corn fiber remaining after corn wet-milling, corn fiber to which the soluble material removed during wet-milling had been re-added, and a commercial corn gluten feed were assessed. The effects of steam-pelleting the first two products on the nutrient absorbability were examined. The by-products were substituted for 50% of a basal diet to allow estimation of metabolizable and digestible energy values. None of the animals utilized the corn fiber well and steam-pelleting resulted in no improvement. The addition of the soluble material to the fiber resulted in a product with a lower crude fiber content which was better utilized by the experimental animals. However, this product was not improved by steam-pelleting. The commercial product was not well utilized by the chickens, roosters, or young turkeys, but could be a valuble ingredient in rations for turkey breeding stock and swine.