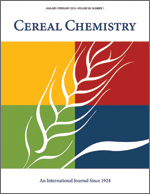 Cereal Chem 48:34 - 39. | VIEW ARTICLE
Bromide Residues in Flour Streams Milled from Fumigated Wheats.

W. C. Shuey, V. L. Youngs, and M. E. Getzendaner. Copyright 1971 by the American Association of Cereal Chemists, Inc.

Methyl bromide residue were determined on four milled products obtained from experimentally milled wheats treated with 1.5 and 3.0 lb. methyl bromide per 1,000 cu. ft. and at approximately 30 and 85% r.h. The fractions derived from the exterior portion of the kernel and those with higher lipid content contained higher amounts of residue. Higher amounts of applied methyl bromide resulted in higher amounts of residue. The milling and baking properties did not appear to be affected by the treatments applied. In general, neither variety nor class of wheat responded differently. The amount of residue also did not appear to be related to the degree of unsaturation of the lipid content.