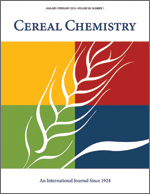 Cereal Chem 48:40 - 46. | VIEW ARTICLE
Utilization of Methionine in Fonio by Growing Rats.

S. Yannai and G. Zimmermann. Copyright 1971 by the American Association of Cereal Chemists, Inc.

Fonia (Digitaria exilis (Kippist) Stapf.) has been reported to be rich in methionine in its protein fraction. The metabolic availability of methionine from this cereal in methionine-limited diets has been determined by protein efficiency ratio (PER), protein retention (PR), net protein utilization (NPU), and net protein ratio (NPR). Fonio methionine was highly available under the conditions in question. Comparison of NPU and NPR values has led to the conclusion that on methionine-limited diets, nitrogen concentration in newly formed tissues is significantly lower than on normal diets.