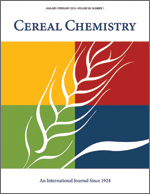 Cereal Chem 48:47 - 58. | VIEW ARTICLE
Composition and Utilization of Milled Barley Products. I. Gross Composition of Roller-Milled and Air-Separated Fractions.

Y. Pomeranz, H. Ke, and A. B. Ward. Copyright 1971 by the American Association of Cereal Chemists, Inc.

Barleys of five varieties were milled by conventional roller-milling and composites of flour streams, comprising 65% of the products, were air-classified. Ash of roller-milled samples was highly correlated with protein, color, free lipids (extractable with petroleum ether), and crude fiber. Free lipids contained mainly nonpolar components (primarily triglycerides). Bound lipids (extractable with butanol following petroleum ether) contained mainly phospholipids and glycolipids. The relation between protein determined by the Kjeldahl and dye-binding methods indicated two groups (with Kjeldahl protein below and above 9.0%) varying in slopes of regression lines. Air fractionation gave a fraction (5% of total products) containing about 15% more protein than the original flour (around 10%). A protein shift was accompanied by a shift in ash, free lipids, and bound lipids.