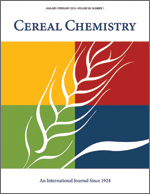 Cereal Chem 49:131 - 141. | VIEW ARTICLE
Air Classification of Corn Grits. I. Softening Grits with Enzymes and Chemicals.

J. Spanheimer, J. E. Freeman, R. E. Heady, and V. E. Headley. Copyright 1972 by the American Association of Cereal Chemists, Inc.

Capacity of five chemicals and eight different commercial protease preparations to soften corn grits at 30% moisture was determined. Moist grits with added chemical or enzyme were held 24 hr. at 120 F., then dried overnight at 50 C. Treated samples were slurry-milled and wet-screened on nylon bolting cloth. The proportion of insoluble grit dry-substance passing a 36 Nitex cloth was a primary criterion of treatment effectiveness. Effects of moisture level and time and temperature of incubation were determined for selected enzymes. The only chemical investigated that softened grits significantly was sulfur dioxide. All proteases solubilized a portion of the endosperm protein and weakened grit structure. Osborne fractionation indicated that the matrix protein glutelin was the primary substrate for protease enzymes, whereas zein was not measurably affected.