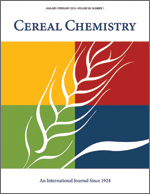 Cereal Chem 49:142 - 149. | VIEW ARTICLE
Air Classification of Corn Grits. II. Fine Grinding and Air Classification of Protease-Treated Grits.

V. E. Headley, J. Spanheimer, J. E. Freeman, and R. E. Heady. Copyright 1972 by the American Association of Cereal Chemists, Inc.

Tempering grits 24 hr. at 120 F. and 30% moisture with bromelain at 2 mg. enzyme per g. grits (dry solids), flaking to 0.012-in. thickness, and freeze-drying, increased grinding capacity in a pin mill approximately fourfold and reduced energy consumption by about 75%. Concomitantly, the proportion of total grit dry substance reduced to less than 32 microns in size was increased from 31 to 94%. Despite the near total disintegration of the grit, air classification gave no fraction with less than 5.5 nor more than 31.4% protein, starting with grits analyzing 8.5% protein. Scanning electron photomicrographs showed that flour from finely ground enzyme-treated grits contained starch granules with attached pieces of protein.