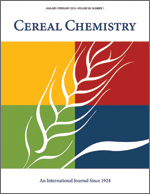 Cereal Chem 49:150 - 157. | VIEW ARTICLE
A Fundamental and a Rapid Empirical Test for Dust in Corn.

W. T. Greenaway. Copyright 1972 by the American Association of Cereal Chemists, Inc.

The fundamental procedure employs suction and manual shaking to evacuate nearly all dust from corn and to trap it in distilled water. The dust is filtered into a Gooch crucible, dried, and weighed to determine percent dust. Four determinations require approximately 60 min. Results are exact except for dissolved minerals. The loss is 1% of the weighed dust. The fundamental method becomes the empirical procedure with only slight loss of accuracy by: 1) extracting only part of the dust; 2) measuring conductivity due to minerals dissolved from the dust with an electrode rather than weighing the dust itself; and 3) reading dust content from a conversion table which relates a dust index, based on conductivity, to percent of dust in corn. Time per test is approximately 3 min.