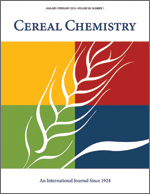 Cereal Chem 49:240 - 246. | VIEW ARTICLE
Composition and Utilization of Milled Barley Products. III. Amino Acid Composition.

G. S. Robbins and Y. Pomeranz. Copyright 1972 by the American Association of Cereal Chemists, Inc.

Protein content and amino acid composition were determined in acid hydrolysates of covered and hulless barley cultivars and isogenic lines; in lemma, palea, germ, and endosperm fractions dissected by hand; in fines and pearls from tangential abrasion on a barley pearler; and in streams from conventional roller- milling and air classification. No varietal differences in amino acid composition were established. The low- protein hulls (lemma and palea) and the high-protein germ were higher in lysine and aspartic acid and lower in glutamic acid and proline than the proteins in the whole kernel. With increase in pearling time, the protein contents of the fines and pearls decreased and their amino acid composition approached that of the starchy endosperm. Analyses of roller-milled fractions are interpreted on the basis of data from hand- dissection and pearling studies. Air fractionation resulted in significant shifts in protein contents and amino acid composition.