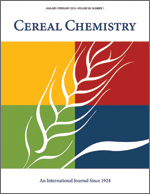 Cereal Chem 49:307 - 316. | VIEW ARTICLE
Properties of Glutens from Doughs Containing Components of Cheddar-Cheese Whey.

M. V. Zaehringer. Copyright 1972 by the American Association of Cereal Chemists, Inc.

Glutens were isolated from bread-flour dough and all-purpose-flour doughs containing lactose, whey proteins, lactose-plus-proteins, or dried whole whey. Lactose had no effect on the viscoelastic properties of gluten from either of the two flours. Whey proteins added to all-purpose-flour doughs increased yield of gluten and hardness of the gluten balls, and lightened the color. When added to bread-flour doughs, whey proteins decreased elasticity, increased tenderness and volume, and darkened the color. In general, properties of glutens from doughs containing both lactose and proteins were similar to those of glutens containing proteins alone. Adding dried whole whey to all-purpose-flour doughs decreased drip loss, extensibility of gluten, and volume of the gluten balls, but increased tenderness and lightness of color. In bread-flour doughs, dried whole whey decreased yield, drip loss, extensibility, and elasticity. Properties of lactose-plus-proteins glutens differed from dried whole-whey glutens in several respects. The two flours did not always react to the added components in the same manner.