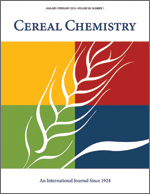 Cereal Chem 49:317 - 323. | VIEW ARTICLE
The Effect of Lipid on the Solubility and Molecular-Weight Range of Wheat Gluten and Storage Proteins.

D. H. Simmonds and C. W. Wrigley. Copyright 1972 by the American Association of Cereal Chemists, Inc.

Extraction with 6M urea has been used to separate the more readily soluble gliadin and glutenin fractions of freeze-dried gluten, and of wheat storage protein, from the insoluble residue. The choice of this solvent has preserved the structure of this residue, allowing its microscopic examination as described in the article following. Much less protein was extractable from gluten than from storage protein, which had been prepared with organic solvents and was thus depleted in lipid. Reconstitution experiments which involved the wetting of storage protein in the presence of readded flour lipid suggested that the difference in protein solubility in the case of gluten is due to lipid-protein association during dough formation. The protein fractions involved have been partly characterized by gel filtration.