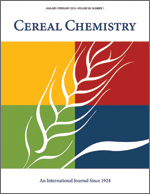 Cereal Chem 49:354 - 365. | VIEW ARTICLE
Electron Microscopy of Starch Granules Modified by Bacterial Alpha-Amylase.

D. Gallant, C. Mercier, and A. Guilbot. Copyright 1972 by the American Association of Cereal Chemists, Inc.

Starch granules of various types (potato, corn, amylomaizes, waxy-maize, and wheat) were studied by light and electron microscopy before and after attack by alpha-amylase. Differences in the digestion processes of these starches were revealed. By combining the enzymatic treatment with lintnerization or a cautious periodic oxidation of the granules, it was possible to define more accurately some characteristics of the granular structure. It was shown in particular that the organization of the peripheral and mid areas and of the central part of potato starch granule may be different. The results are discussed in relation to previous studies.