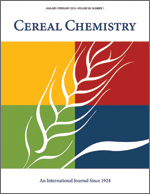 Cereal Chem 49:372 - 378. | VIEW ARTICLE
Functional (Breadmaking) and Biochemical Properties of Wheat Flour Components. X. Fractions Involved in the Bromate Reaction.

R. C. Hoseney, K. F. Finney, and M. D. Shogren. Copyright 1972 by the American Association of Cereal Chemists, Inc.

Defatted flour (extracted with petroleum ether) gave essentially no bromate response. Since supplementation of defatted flour with 1% sucrose monopalmitate gave a positive response, the native lipid fraction is not directly involved in the bromate reaction. Fractionating and reconstituting techniques have shown that potassium bromate improves gas retention by blocking a normally occurring, deleterious reaction, and that a nondialyzable entity from the water-soluble fraction is required for the bromate reaction. In addition, both the dialyzable and nondialyzable fractions from the most soluble gluten fraction (that remaining in solution after neutralizing the lactic acid suspension to pH 6.1 by sodium carbonate) are required for the bromate reaction. The entity in the dialyzable fraction has been tentatively identified as phosphoric acid. The nature of the overall reaction remains obscure.