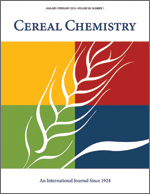 Cereal Chem 49:719 - 728. | VIEW ARTICLE
Evaluation of Methods for Tannin Analysis in Sorghum Grain.

E. D. Maxson and L. W. Rooney. Copyright 1972 by the American Association of Cereal Chemists, Inc.

Several methods or variations of methods of tannin analysis for sorghum grain were evaluated. Of seven methods that appeared promising, only three were judged to have potential for use on sorghum grain. These are the Bate-Smith and Rasper, ferric ammonium sulfate, and modified vanillin-hydrochloric acid methods. The Bate-Smith and Rasper method is rapid and reproducible, but lacks a suitable standard. The modified vanillin-hydrochloric acid method is rapid but has day-to-day variation. Tannin content expressed as catechin equivalents ranged from 0.08 to 4.32 mg. per 100 mg. The method with the least variation was extraction with urea, followed by reaction with ferric ammonium sulfate to form a color complex. The tannin content of the grain analyzed ranged from 0.20 to 1.15 mg. per 100 mg. tannic acid equivalents when this method was used. None of these methods measure tannin content in clearly definable substances. Therefore, any potential method for tannin analysis in sorghum should be related to biologically significant differences in the quality of the sorghum grains.