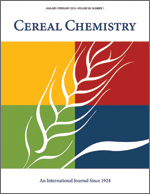 Cereal Chem 50:1 - 6. | VIEW ARTICLE
Effect of Wetting Temperature on Glutamic Acid Decarboxylase Activity in Wheat Embryos.

H. Kott. Copyright 1973 by the American Association of Cereal Chemists, Inc.

The temperature at which dried-wheat embryos are wetted was found to have a considerable effect on glutamic acid decarboxylase activity. Activity levels at 24 and 30 C. were, respectively, 3.42 and 4.11 times higher than in an ice bath. Pyridoxal-5'-phosphate was found to restore activity at low temperatures, while not eliminating the temperature effect completely.