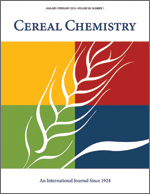 Cereal Chem 50:7 - 15. | VIEW ARTICLE
High-Protein Bread from Wheat Flour Fortified with Full-Fat Soy Flour.

C. C. Tsen and W. J. Hoover. Copyright 1973 by the American Association of Cereal Chemists, Inc.

Fortifying wheat flour with full-fat soy flour in making bread can raise protein content, balance essential amino acids, and increase bread's caloric value. Such fortification, however, can adversely affect both rheological properties and baking quality of wheat flour. Sodium stearoyl-2 lactylate (SSL) could increase the stability of dough containing 12 to 28% soy flour. The effect was enhanced with increased additions of SSL (0.25 to 2.0%). All breads with 12 to 28% soy flour exhibited a small loaf volume and poor grain score. When 0.5% SSL was added, acceptable bread resulted from wheat flour fortified with soy flour up to 24%. Ethoxylated monoglycerides also gave a larger loaf volume but a lower grain score than SSL. Baking quality of defatted soy flour was inferior to that of full-fat soy flour, even compared on an equivalent protein basis. SSL also helped stored breads (soy and control) retain softness.