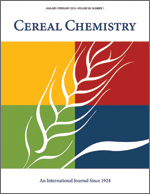 Cereal Chem 50:16 - 26. | VIEW ARTICLE
Baking Quality of Triticale Flours.

C. C. Tsen, W. J. Hoover and E. P. Farrell. Copyright 1973 by the American Association of Cereal Chemists, Inc.

The farinograph properties and baking performance of three Triticale flours of different protein content were studied. The Triticale dough developed readily with a low stability toward mixing, indicating deficient gluten quantity and quality. Prolonged fermentation deleteriously affected Triticale dough. It could readily rupture the weak dough structure and also reduce reactants for the browning reaction during baking. Accordingly, the finished Triticale bread had a broken top and pale crust. By eliminating bulk fermentation and adding 0.5% sodium stearoyl-2 lactylate, 0.25% sucrose tallowate, or 0.25% ethoxylated monoglycerides, acceptable bread was made from Triticale flour (13.6% protein) without supplementing wheat flour. However, the low protein (11.1%) Triticale flour required wheat-flour supplements to produce acceptable bread. Triticale bread staled almost twice as rapidly as wheat bread.