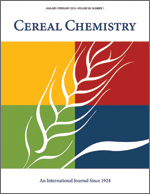 Cereal Chem 50:37 - 43. | VIEW ARTICLE
Milling Evaluation of Hard Red Spring Wheats. V. Relation of Wheat Protein, Wheat Ash, Bran Pentose, Flour Pentose, and Starch on Bran to Milling Results.

W. C. Shuey and K. A. Gilles. Copyright 1973 by the American Association of Cereal Chemists, Inc.

Seventeen predominately spring wheat commercial mill mixes were ground on commercial mills, a Pilot mill, a Buhler mill, and a Quadrumat Jr. mill to determine the relation of certain chemical constituents with the milling results. The wheat ash and protein contents were significantly correlated to total flour extraction (0.601* and 0.532*, respectively). Percent starch on bran was highly significantly correlated to flour yield (- 0.708**). The pentose-rich fraction from the bran was significantly correlated to the extractions at 0.46% ash for the pilot mill, Buhler mill, and commercial mills (0.566*, 0.523*, and 0.513*, respectively). The pentose-rich fraction from the flour was not significantly correlated with any of the factors studied. Wheat ash, wheat protein, and percent starch on bran are related to the milling characteristics of wheat.