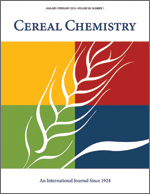 Cereal Chem 50:50 - 69. | VIEW ARTICLE
Factors Affecting Mechanical Dough Development. III. Mechanical Efficiency of Laboratory Dough Mixers.

R. H. Kilborn and K. H. Tipples. Copyright 1973 by the American Association of Cereal Chemists, Inc.

The "mechanical efficiency" (a measure of the energy available to the dough during mixing) of various laboratory mixers was determined using an electric clutch to apply the torque which was measured by a strain gage. The mixers studied included the GRL experimental mixer, the GRL pin mixer, the National Mixograph, and the Hobart-McDuffy mixer. The mechanical efficiency varied with the load on the mixer, but the overall range for the four mixers studied was 40 to 80%. The highest values were for the experimental mixer, and the lowest for the GRL pin mixer which has a more complex drive mechanism. After correction of gross energy measurements for mechanical efficiency, discrepancies between net work- input figures (when mixing to peak dough consistency as indicated by mixing curves) could then be attributed to differences in mixing efficiency, which relates to the portion of the energy available to the dough that contributes to mechanical development. The GRL pin mixer, while having a low mechanical efficiency, was found to have a high mixing efficiency. Mixing efficiency was also affected by dough temperature.