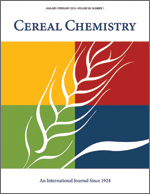 Cereal Chem 50:106 - 113. | VIEW ARTICLE
Studies of Glutenin. I. Comparison of Preparative Methods.

R. A. Orth and W. Bushuk. Copyright 1973 by the American Association of Cereal Chemists, Inc.

Three preparative methods for glutenin, viz. Osborne fractionation, gel-filtration chromatography, and pH precipitation with subsequent purification using SE-Sephadex C-50 were evaluated. Amino acid analyses and disc-gel electrophoresis of the products showed that the third method yields glutenin that is free from low-molecular-weight contaminants. The dissociating solvent AUC (acetic acid, urea, CTAB) which dissolved 93% of the flour protein was used for the gel filtration and pH precipitation methods. Two other detergents, sodium dodecyl sulfate and Brij 35, in combination with acetic acid and urea, were less effective than CTAB and solubilized 60 and 89% of the flour protein respectively. Because of its relatively high solvent efficiency, and the fact that it is neutral, and so does not migrate on electrophoresis at pH 3.2, Brij 35 is preferable over CTAB as a protein dispersant for electrophoretic studies.