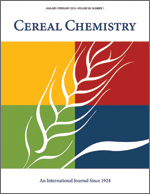 Cereal Chem 50:122 - 132. | VIEW ARTICLE
Changes in the Levels of Proteolytic Enzymes from Hard Red Spring Wheat During Growth and Maturation.

J. E. Kruger. Copyright 1973 by the American Association of Cereal Chemists, Inc.

The levels of the proteolytic enzymes hydrolyzing azocasein and alpha-benzoyl-L-arginine-p-nitroanilide (BAPA) have been followed throughout kernel development for two hard red spring wheat varieties. Azocaseinase activity increased during early kernel development until approximately 16 to 18 days after flowering, after which time it decreased. Similarly, BAPA-ase activity formed early in kernel development and remained at a constant level until near maturity, at which time the activity in one of the two varieties decreased. Azocaseinase was found predominantly in the outer branny layers, whereas the greatest amount of BAPA-ase was found in the endosperm. Levels of nitrogen and moisture were also followed throughout the development of these kernels.