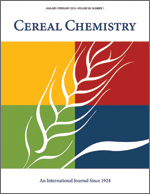 Cereal Chem 50:264 - 270. | VIEW ARTICLE
Mycotoxin Production Affected by Insecticide Treatment of Wheat.

E. E. Vandegraft, O. L. Shotwell, M. L. Smith, and C. W. Hesseltine. Copyright 1973 by the American Association of Cereal Chemists, Inc.

Insecticide treatment of wheat both increased and decreased aflatoxin and ochratoxin production depending on the fungal strains used---Aspergillus flavus, A. parasiticus, A. ochraceus, and Penicillium viridicatum. Some strains were affected the same by phosphine and carbon tetrachloride:carbon disulfide treatment while others were affected oppositely. In some experiments the effect of insecticide treatment was significant on wheat sterilized by autoclaving at about 25% moisture but not on unsterilized. Mycotoxin production by most molds is enhanced on wheat sterilized by autoclaving before inoculation.