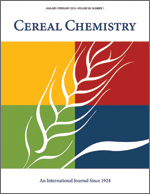 Cereal Chem 50:271 - 280. | VIEW ARTICLE
A Pictorial Explanation for the Increase in Viscosity of a Heated Wheat Starch-Water Suspension.

B. S. Miller, R. I. Derby, and H. B. Trimbo. Copyright 1973 by the American Association of Cereal Chemists, Inc.

Maximum viscosity of a wheat starch suspension heated in an excess of water occurs after most of the granule swelling ceases. The increase in viscosity is shown by light micrographs and scanning electron micrographs to be due mainly to the exudate (seen as a filamentous network after freeze-drying a fully heated starch suspension) released from the starch granules. The corollary is also true---when no network is seen, no viscosity develops. These same effects also appeared during limited testing of corn, waxy maize and potato starch.