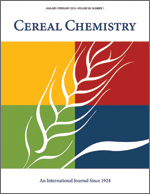 Cereal Chem 50:292 - 302. | VIEW ARTICLE
The Role of Flour Lipids in Baking.

F. MacRitchie and P. W. Gras. Copyright 1973 by the American Association of Cereal Chemists, Inc.

Certain lipid-extracting solvents, including water-saturated butanol, are unsuitable for studying the role of lipids in baking since they alter the functional properties of flour protein. Other solvents, such as chloroform and petroleum ether, do not affect the properties of flour components. About three-fourths of the flour lipid may be removed by cold solvent extraction. Most of the remaining lipid occurs in the starch granules and does not appear to play an important role in baking. Curves of loaf volume as a function of lipid content for several flours with a range of properties all showed minima at lipid contents intermediate between those of the defatted and whole flours. Polar and nonpolar lipid fractions have different effects on loaf volume. Variations in loaf volume as a result of different lipid treatments become apparent only during the baking stage in the oven. Lipid content and bromate level both affect loaf volume but appear to act independently.