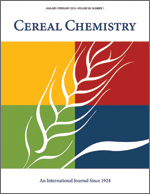 Cereal Chem 50:312 - 321. | VIEW ARTICLE
Dissolution of Starches in Dimethylsulfoxide and Variations in Starches of Several Species, Varieties, and Maturities.

R. H. Kurtzman, Jr., F. T. Jones, and G. F. Bailey. Copyright 1973 by the American Association of Cereal Chemists, Inc.

Solubilization of starch in dimethylsulfoxide (Me2SO)-water solutions was characteristic of the species, variety, and maturity of the plant of its origin. Starches from waxy corn (Zea mays), potato (Solanum tuberosum), rice (Oryza sativa), and several varieties each of navy bean (Phaseolus vulgaris) and lima bean (P. lunatis) were studied by microscopic, turbidimetric, and spectrophotometric-birefringence methods during dissolution in Me2SO-water solutions. Differences in solubility properties include the length of the initiation period, during which no visible change occurs; the rate of swelling; the rate of loss of birefringence; the rate of dissolution; and the optimum Me2SO-water concentration required to dissolve the starch. High concentrations of Me2SO dissolve the starch granule from the outside whereas the mass of the granule was more soluble in lower concentrations of Me2SO. Chemical analysis of the remnant from 85% Me2SO indicates that it is highly branched amylopectin. The energy of activation for dissolution of swollen starch was approximately 24,000 calories.